Sizes of Mooria products
Sizes of collars with buckle
Basic measure for the selection of new collar is its length. Our collars have adjustable length. You find required size once the circumference of your dog's neck is within minimal and maximal length of the collar. Do not measure the neck too tightly! Ideally you should be able to loosely slide two fingers between the dog's neck and measuring tape. Choose different size of the collar if the measured dimension equals to the minimum or maximum length of the collar. If such a size is not available we will for free shorten or lengthen the collar you wish to have.

Collars – Basic sizes

 
width
length
XS
1,6
20 - 30
S
2
26 - 37
M
2,5
31 - 45
L
4
38 - 51
XL
5
43 - 63
Collars – Extended sizes

 
width
length
XS+
1,6
26 - 37
S+
2
31 - 45
M+
2,5
38 - 51
L+
4
43 - 63
XL+
5
52 - 70
in centimeters
Different sizes of the collars with name tag
Adding a name tag changes minimal and maximal length of the collar! You can find more details about name tags and sizes of the collars with name tags here.
Sizes of Martingale collars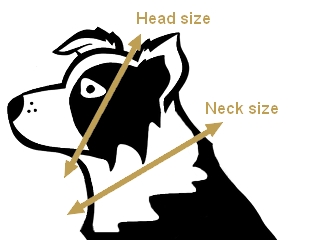 Martingale collars are produced in three width types with individual length. Loosely measure the neck where the collar would normally sit and the widest part of your dog's head. We will produce custom length of the collar that will fall within the range of these measurements. Martingale collars also have adjustable length to adjust comfortable closing around dog's neck.
Martingale collars

 
width
length
M
2,5
Custom length
L
4
Custom length
XL
5
Custom length
in centimeters
Sizes of leashes
Leashes are produces in three width types. Size S is desiged for collar sizes XS and S, size M for collar size M and size L for collar sizes L and XL. Double leads can be individually adjusted for three different lengths – 135, 185 and 205 cm.
Single leads

 
width
length
S
1,6
135
M
2
135
L
2,5
135
Double leads

 
width
length
S
1,6
260
M
2
260
L
2,5
260
in centimeters
More details about our products