Collar name tags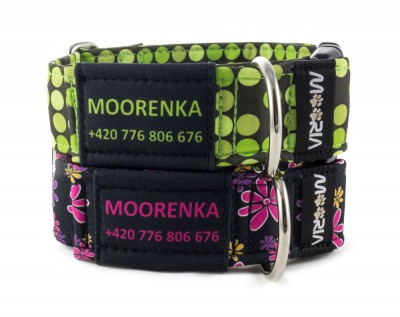 Mooria collars can be easily enhanced by name tag with contact details. Same as the designs we also print the name tags directly on the fabric. That allows us high flexibility in customization. We offer two types of name tags. One is directly sewn on the collar, the other one is removable. You can order removable Velcro name tag here. The name tag which is sewn directly on the collar must be ordered together with the collar. To order this name tag select the name tag option at the collar detail and fill-in the name tag information. The text is printed in the color that matches the collar design.
Name tags that are sewn directly on the collar are not removable. For this reason the minimal and maximal length of the collar is different because the name tag cannot go through the slide. While ordering the name tag, please take in consideration that length of the collar will be different. Sizes of collars with name tags are stated in the table below. The difference in size relates only to collars with buckle, Martingale collars have individual length.
Name tag sizes

 
XS
3 x 1,6 cm
S
3 x 2 cm
M
4 x 2,5 cm
L
5 x 4 cm
XL
6 x 5 cm
length x height
Sizes of collars with name tag

 
width
length
XS
1,6
20 - 27
S
2
26 - 34
M
2,5
30 - 42
L
4
36 - 48
XL
5
41 - 59
 

 
width
length
XS+
1,6
25 - 35
S+
2
30 - 43
M+
2,5
36 - 49
L+
4
41 - 60
XL+
5
49 - 67
in centimetres
We are happy to print any additional details on the name tag – for example second phone number or the address. Regarding the sizes of the nametags we recommend this option only for collars of sizes L and XL where the additional data will be visible. You can request to print the additional text also on the smaller sizes however the size of the nametag is too small so that the text might be less visible. If you have any other request regarding individual text color, font size or specific font type, just let us know and we customize the name tag in order to meet your expectations.
In case of any concerns regarding customization of the nametags do not hesitate to contact us!
More details about our products